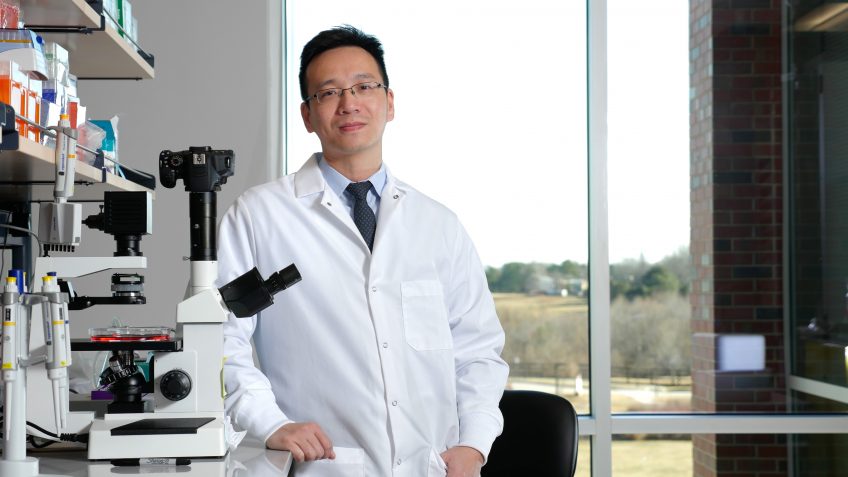 The American Heart Association has awarded a grant to NC State College of Veterinary Medicine's Ke Cheng for research into repairing damage caused by a heart attack.
The $300,000 Transformational Project Award funds a three-year study from Cheng, the CVM's professor of regenerative medicine, exploring heart failure's impact of the reparative ability stem cells, information that can lead to more effective therapies for heart disease.
Research suggests that stem cells release vesicles called exosomes that jump-start reparative activity in the heart, but the effects of heart failure on exosome functions are not well studied.
Cheng's project aims to detail loss of exosomal function in heart failure samples and determine if modulating a specific RNA molecule can restore exosome reparative function after a heart attack. That molecule, miR-21, plays a large role in the development of heart disease.
According to the Centers for Disease Control and Prevention, more than 600,000 people in the United States die every year from heart disease, the leading cause of death for both men and women. Every year, the CDC says, 735,000 Americans have a heart attack.
Cheng's lab focuses on translational research in regenerative medicine through stem cells, biomaterials and micro-RNAs. His groundbreaking research at the CVM includes ways to ensure that restorative stem cells find the heart and stay in place and how nanoparticles may help repair damaged heart tissue without the use of donated or patient-derived stem cells.
Cheng, also a professor in NC State and UNC-Chapel Hill's joint Department of Biomedical Engineering, has led a research team developing synthetic cardiac stem cells. Before arriving at NC State, he directed a lab that conducted the world's first clinical trial using cardiac stem cells to treat heart attacks.
The grant funds the research project through 2021.  
More information:
Ke Cheng's BioTherapeutics Laboratory
The American Heart Association
This post was originally published in Veterinary Medicine News.